Roche Harbor, on San Juan Island, is a resort built at the site of a quarry and lime kiln.   Since we were in Canada the  previous two days, we had to clear US Immigration and Customs.  Vessels over 30' need a special sticker/permit from Customs, and our vessel, as with most charter boats, had the appropriate documentation.




Look closely at this structure.  Count the columns at the foundation.  Now count them at the top of the structure.  This reminds me of the drawings of M. Escher...

Roche Harbor has a tradition of striking the colors at sunset.  As bagpipe music plays "O Canada" and "The Star Spangled Banner", the flags of both nations are lowered.

For our visit, the USPS National

Bridge acted as Color Guard and lowered the flags, while we watched during dinner.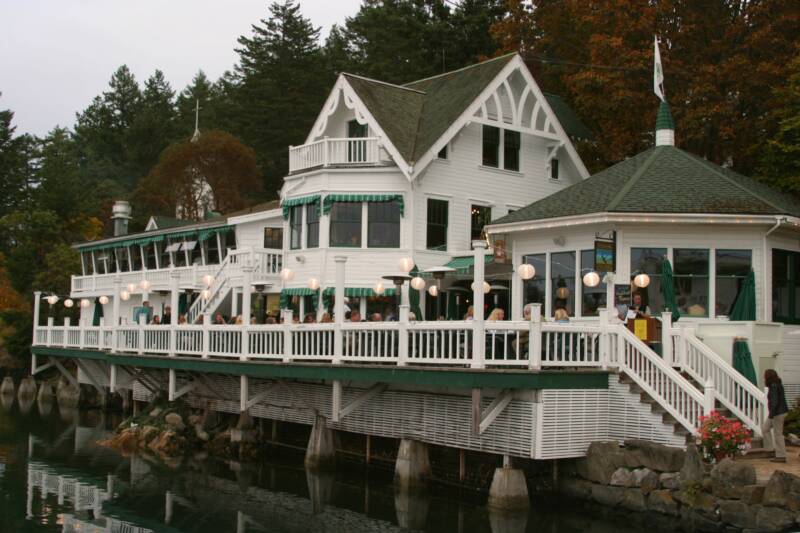 Left:  McMillin's restaurant from the water.                                 Right:  The table for D-7

Above:  The docks at Roche Harbor.

Below:  US Customs and Immigration

The historical Hotel de Haro is named for the Haro straights, which separate Vancouver Island from San Juan Island.  Mr McMillin built the hotel in 1886 to accomodate guests and friends who would visit him, including President Theodore Roosevelt.

Bully !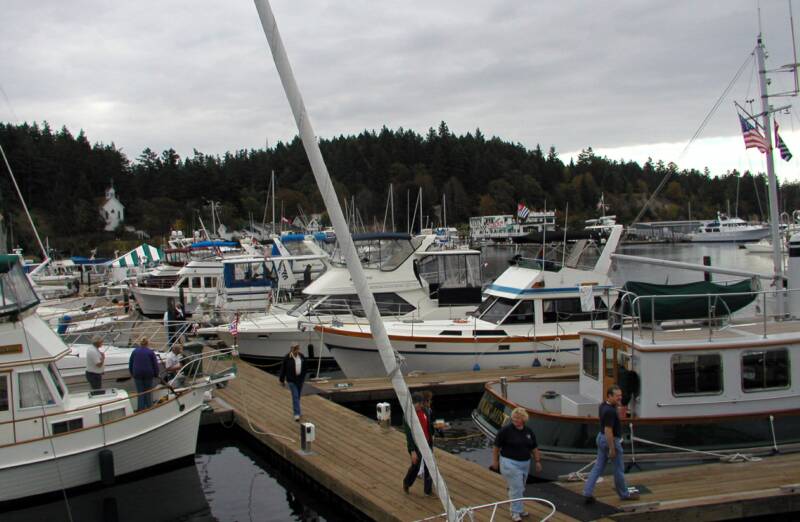 Roche Harbor is a resort built at the site of a quarry and lime kiln.   In the late 1800's, the Roche Harbor Lime & Cement Company was known as "The Largest Limeworks West of the Mississippi."

This was the home of Mr John S McMillin, the Manager of the Quarry, which now serves as the office and an excellent restaurant.  We reserved a table for District 7 and enjoyed an evening meal together

Again, we can't say enough about the organization of this cruise.  You can immagine the challenge to Customs and Immigration Officers if 50 boats arrived at their docks within the space of a few hours.

Our docking committee alerted Customs so that extra officials were available.  A list of our boats, supplied ahead of time, also helped expedite this process.

Once we cleared Customs and Immigration, we got together on the dock for a social hour before dinner.  There we could trade stories about "Orca sightings"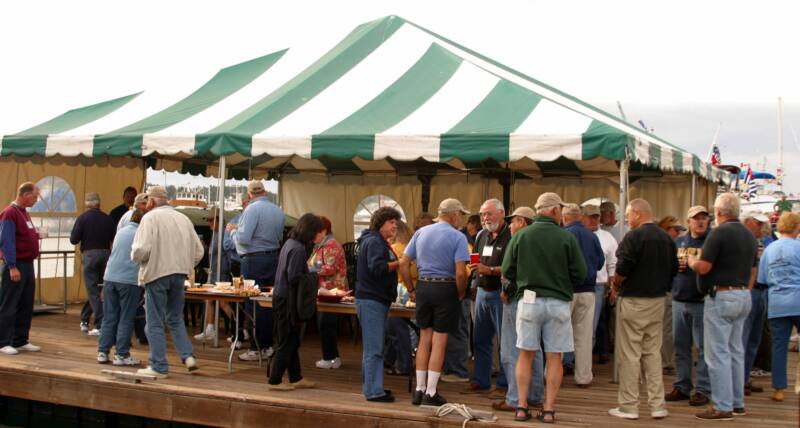 Left:  The green tent was the party tent!  Everyone brought beverages and hors d'oevres to share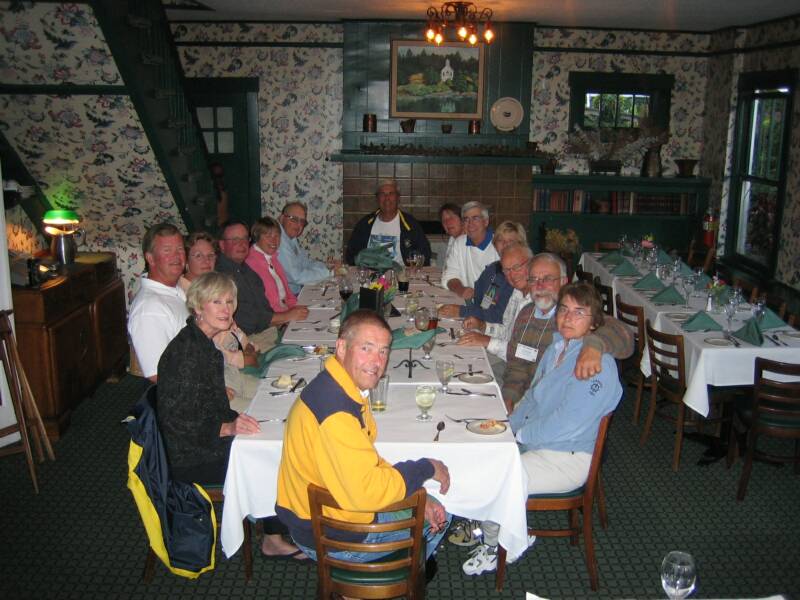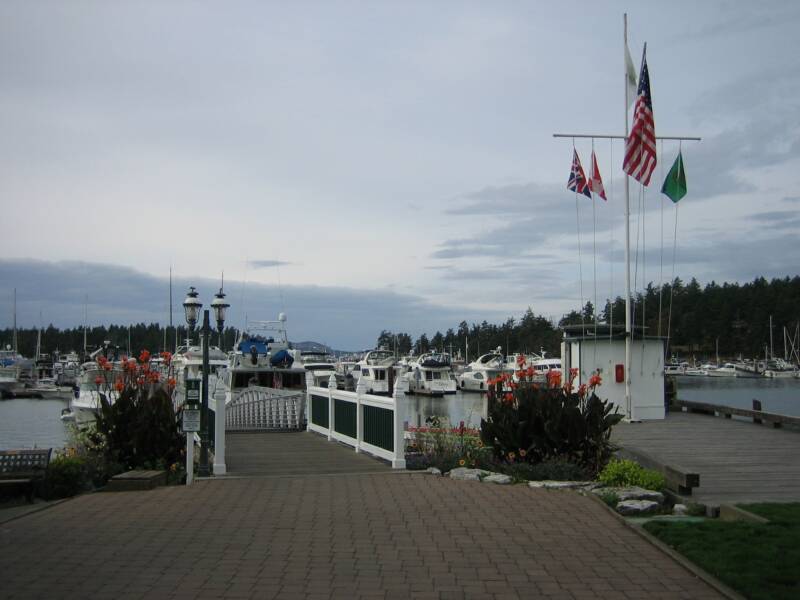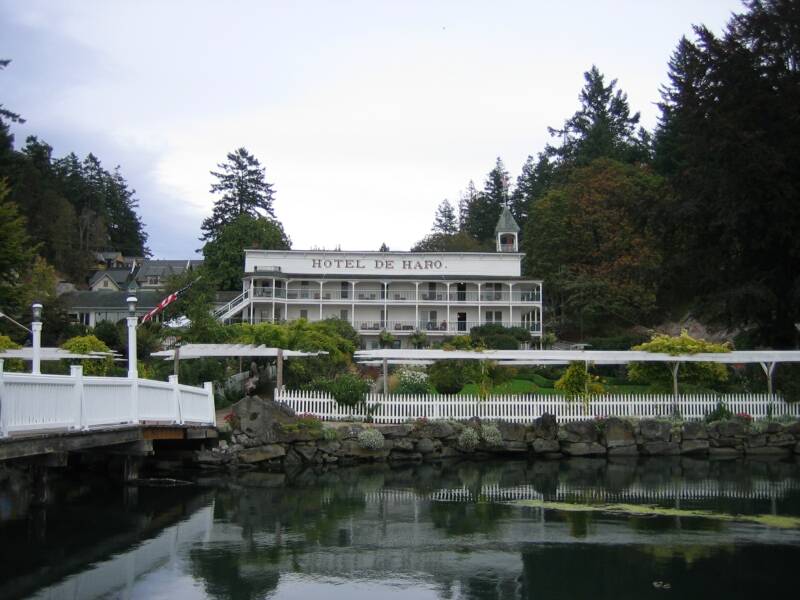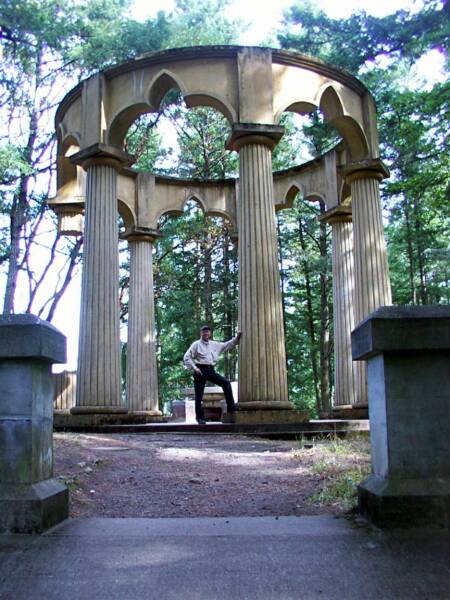 We had a little time to explore on Friday morning, before heading to Friday Harbor, which is only about 10 miles away.  McMillin built this unusual mausoleum where he and his family are buried.